Disney World Theme Park Reivew
Disney World is one of the most magical places on earth located in the heart of Central Florida.

Get a taste of Disney's Magic with their new Magic Your Way Vacations. The Beauty behind Magic Your Way tickets is their flexibility in making your dreams come true on the buget that fits you! Disney World Tickets has special plans that are affordable, so that the longer you stay, the less you pay. Don't miss the "Year of a Million Dreams" cellebration that only requires you to be at the right place and the right time and you might get a tap on the shoulder for a one nights stay at Cinderella's Castle.
Call us Toll Free at 1-800-544-7646
| | | | |
| --- | --- | --- | --- |
| MagicKingdom | Epcot Center | Hollywood Studios | Animal Kingdom |
| | | | |
| | | | |
Check out each one of your favorite theme parks that offers unique spectacles and attractions

Immerse yourself in the magical adventure of your choice at one of 4 world-famous Disney Theme Parks. Creat your dream today as you splash in a world-class water park Blizzard Beach, spend a night in Cinderella's Castle, see the hotest stunts at Hollywood Studios, enter Michey's Philharmagic world of adventure, or ride Disney's adrenaline-pumping coaster Mount Everest.
---

Magic Your Way Tickets
Disney Tickets are so flixible that you can choose from 1 to 10 days The beauty behind Magic Your way tickets is that there are three magical options including Water Park Fun and More, Park Hopper, and No Expiration. Feel free to mixed and matched these options any way that you desire to create your magical vacation. With no Expriation Option, you can save time waiting in line when you want to spend quality time inside Disney theme parks.
Water Park Fun and More Option
You will discover that Disney World is more thatn just theme parks.
Magic your water Water Park Fun and More Options open up a whole new world of adventure at water parks and indoor entertainment for hot or rainy days. As you can imagine, there is so much more to Disney World then just theme parks. By adding the Water Park Fun and More option to your park pass, it so flexible that it can be used at any time, in the morning, during a hot hazy day or during the evening when things begint o cool off. The Water Park Fun and More Option includes Typhoon Lagoon, Blizzard Beach Disney Quest, Pleasure Island, and a complete array of hot clobs in Pleasure Island. With so much to do, now you don't have to miss any of the action with the Water Park Fun and More Option.
Park Hopper Option
This option if for that lively group that want to maximaze their theme park experience with the widest range of entertainment.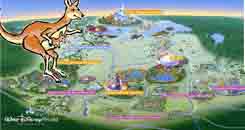 The Park Hopper option, can be added to any pass from 1 to 10 day base ticket. This option gves the guest the maximum flexibility to create the magical vacation that best fit your needs. Guests may begin their day at Magic Kingdom and then later decide to check out the Illuminations at EPCOT at night. With this option ,you can come and go as much as you please through multiple Disney theme parks including Magic Kingdom, Epcot Center, Animal Kingdom, and Hollywood Studios.
No Expiration Option
The No Expiration Option makes Magic Your way tickets so flexible

By adding the flexibility of a No Expiration Option to your Guest passes it , allows you to return to the theme parks in future and take advantage of any unused days. Typically, Magic your way tickets will expire in 14 days, but with the No Expiration Option, guests can enjoy any unused portion of the pass for years to come. The No Expiration Option can be added to any base ticket from 3 to 10 days.